| | |
| --- | --- |
| | |
Since the year 2001, we have been designing award winning web sites for our clients and their referrals. We thrive on the idea of simplicity while keeping all sites aesthetically stimulating. Each site excels in it's own way and seeks to serve a unique purpose. While one site may be a fine example of visual design, another may be an strong example of interactivity. Our portfolio may help you gain some inspiration and see the cutting-edge marketing that's happening on the web today.
Our focus: Navigation, structure, functionality, aesthetics, and, above all, simplicity.

Website Development Projects
BondDesign clientelle in and outside of the Greater New Orleans area
Widgets (Coding)
Pop up Widgets and other cool site modifications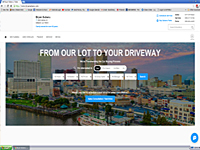 Bryan Subaru
Auto Dealership - Metairie, Louisiana
---
Joint Projects
All projects in association with Webix - Dallas, TX
Charitable & Past Projects
All projects in association with other companies or charities in the greater New Orleans area.
Graphic Design
Services include business card creation, traditional artwork, logo design, t-shirt design, print media, and more.
SAMPLES:
Custom Web Design
Graphic Design
Digital Photography
Search Engine Optimization

Social Media Campaigns

Site Maintenance

Multi-Media Technology

Networking and Computer Upgrades

Copyright © 2023 [ BondDesign Web Media ]. All rights reserved.

Serving The Greater New Orleans and Metairie areas, Louisiana